The Best Ecchi Anime on Crunchyroll – Censored, Lewd, and Hentai Anime
Crunchyroll does not shy away from ecchi animes. It is not very liberal but it has some of the most popular ecchi animes there.
Here are the best ecchi anime on Crunchyroll that you can see with your subscription.
The Best Ecchi Anime on Crunchyroll
High School DxD – The best harem anime on Crunchyroll
High School DxD is an ecchi anime because it features plenty of fanservice, over-the-top sexual humor, and risqué situations.
The protagonist, Issei Hyoudou, is a typical pervy high schooler with a burning desire to have a girlfriend.
He gets his wish when a beautiful girl asks him out on a date, but it turns out she's a fallen angel.
Fortunately for Issei, he is resurrected by Rias Gremory, a powerful demon after Raynare killed him.
He is then recruited into the school's Occult Research Club, where he must train and fight as he adjusts to his new life.
Along the way, there are plenty of fanservice elements that make High School DxD an ecchi anime.
From Issei's outrageous fantasies to Rias' seductive attempt to get him to join the occult club, this series is full of risqué situations and over-the-top sexual humor that keep viewers entertained.
The Testament of Sister New Devil – One of the top Crunchyroll ecchi anime
The Testament of Sister New Devil is an ecchi anime because it features a protagonist, Basara Toujo, who finds himself in many ecchi situations, such as having to protect his two beautiful step-sisters, Mio and Maria, who are revealed to be the new Demon Lord and a succubus.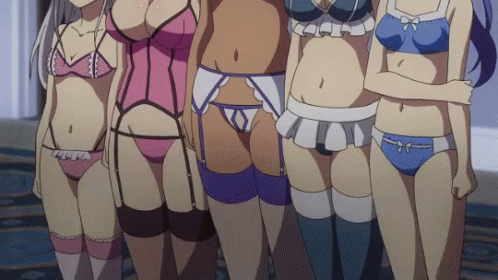 It also features many scenes of fanservice with Mio and Maria in more suggestive clothing and positions that exaggerate their features.
Further, there is a good amount of comedy and action that helps to keep the audience entertained throughout the series.
All of this, combined with the reverse master-servant relationship between Basara and Mio, makes The Testament of Sister New Devil a very entertaining and ecchi anime.
Heaven's Lost Property
Heaven's Lost Property is an ecchi anime that is worth watching due to its exciting plot filled with fun and crazy characters.
The protagonist, Tomoki Sakurai, is an ordinary high school student who always dreams of an angel.
With the help of his childhood friend Sohara Mitsuki, he attempts to find clues about the mysterious angel.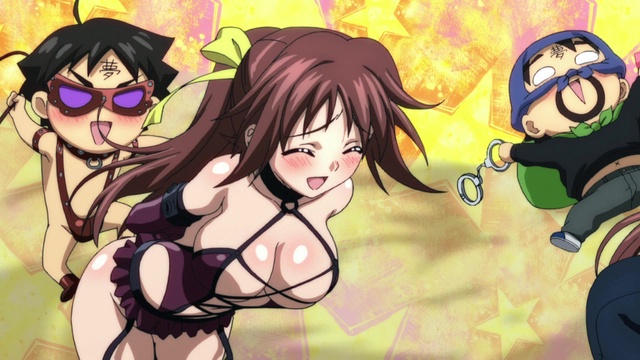 However, their search is unsuccessful until one day, when a strange angel named Ikaros falls from the sky.
From then on, Tomoki's life will never be the same. The show also includes an entertaining harem of characters, as well as humorous and lewd situations.
It is an anime full of comedy and fun moments that will keep you laughing from start to finish.
With its unique premise and captivating storyline, Heaven's Lost Property is an ecchi anime that is definitely worth watching.
Date A Live
Date A Live is an ecchi anime worth watching on Crunchyroll because of its energetic characters and comic dialogues.
Despite being a bit risqué, the show remains lighthearted and provides a refreshing break from the serious tones of much other anime.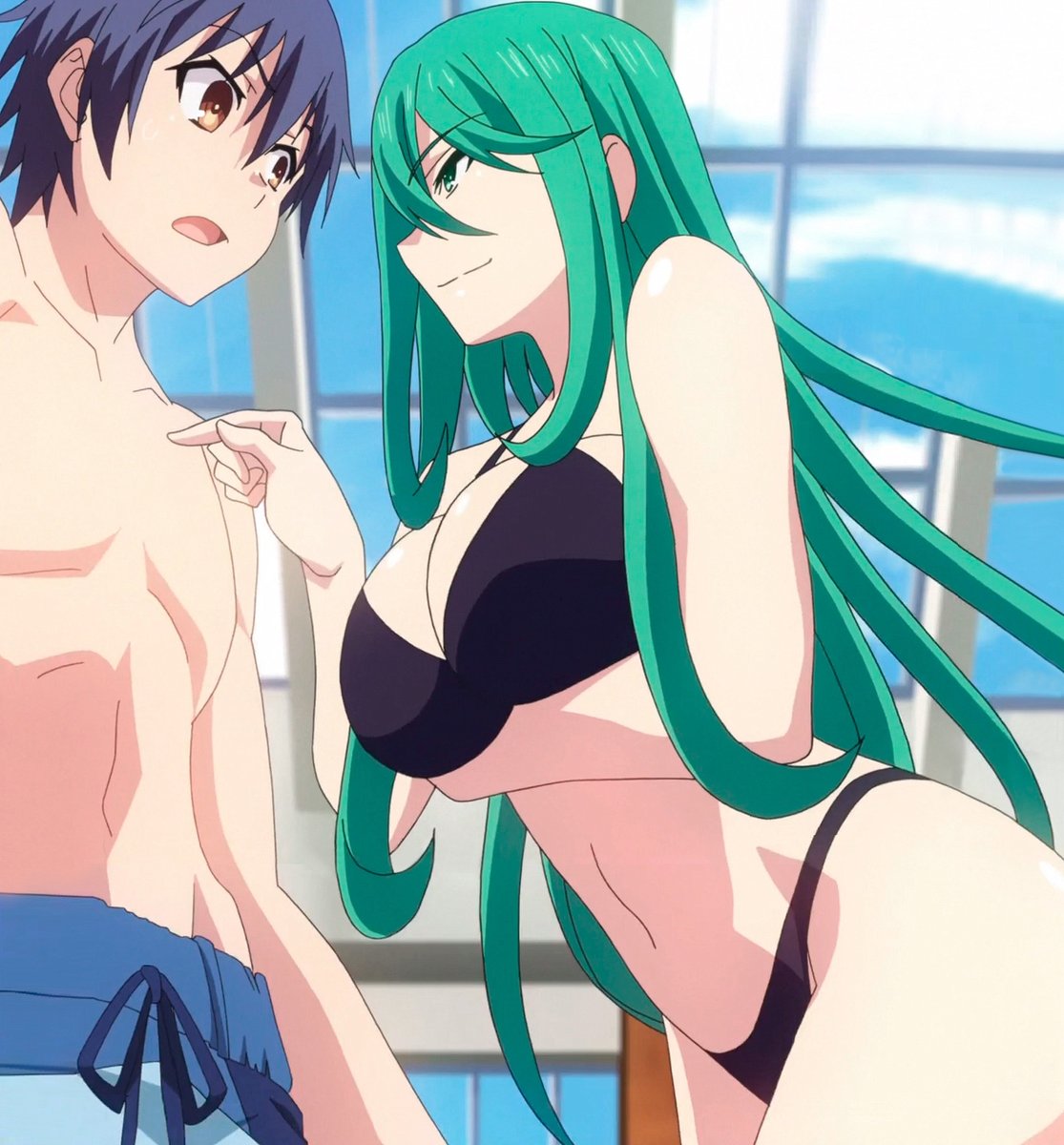 The show follows the high school student Shido Itsuka and his attempt to use his ability to "date" spirits and prevent the destruction of the world.
Along the way, Shido meets various female characters or spirits with whom he must go out on dates and form relationships in order to protect the world.
Despite its focus on the ecchi genre, Date A Live offers an insightful look at relationships, human emotions, and the power of love.
Many would consider this to be a battle harem anime rather than ecchi though.
With its unique blend of action, comedy, and romance, Date A Live is an anime that's worth a watch on Crunchyroll.
Monster Musume: Everyday Life with Monster Girl
The themes and motifs of Everyday Life with Monster Girl revolve around the new law in Japan which allows for interspecies romance.
And the journey of Kimihito Kurursu as he navigates living together with multiple monster girls.
Monster girls with serpent bodies, monster girls with wings like birds, and some are really tall and some are short.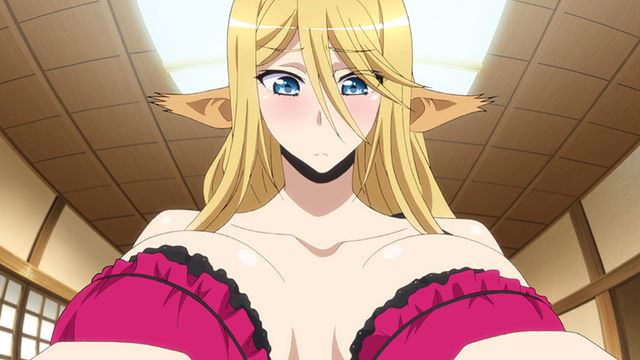 The most important thing is all of them look real pretty and hot.
The main theme of the show is the idea of acceptance and understanding of interspecies relationships, as Kimihito struggles to open up his heart towards the monster girls.
The motifs of the show are the human-monster relationship and its consequences, the experimentation with new laws, and the exploration of different types of love.
The show also touches upon the concept of accepting people of different backgrounds and cultures, creating a bridge between two or more species.
The level of weirdness is pretty high here as you can see.
Through the themes of acceptance, exploration, and understanding, the show helps to create a more inclusive and understanding environment for both humans and monsters.
How Not To Summon A Demon Lord
The plot of How Not To Summon A Demon Lord follows Takuma Sakamoto, an average gamer who is magically transported to a fantasy world similar to the MMORPG he plays, Cross Reverie.
In this world, he assumes the identity of the powerful Demon King, Diablo.
In an attempt to free himself from the enslavement ritual he was subjected to, Takuma uses the "Magic Reflection" Ring to enslave two girls, Shera and Rem.
With the help of these two young beautiful women, he embarks on a journey to find a way to unbind their contract and reclaim his freedom.
In this journey, they meet with seductive women like Raffleisha and the anime becomes more ecchi and naughty.
How Not To Summon A Demon Lord has become a popular ecchi anime due to its unique story, interesting characters, and humorous moments.
The show has managed to add in plenty of fan service and ecchi elements while avoiding becoming too crass or insulting.
The show cleverly incorporates its ecchi elements, making them an integral part of the plot without becoming tasteless or unnecessary.
Furthermore, the show offers an engaging story that keeps viewers hooked and entertained, making it a must-watch for anyone looking for an exciting ecchi anime.
Rem and her aunt Solami are my favorite Neko girls from this series. How about you?
R-15
R-15 is an anime series with a rating of 18+. This has a tone of nude scenes spread over all the episodes.
This rating reflects the series' popularity and its content, which is heavily focused on ecchi, a genre of manga and anime that includes suggestive and sexually explicit content.
This genre is very appealing to many viewers, and R-15 takes it to a new level by featuring highly suggestive themes, as well as a few brief moments of nudity.
The high rating highlights the fact that the series isn't suitable for younger viewers, but it also speaks to the popularity of the anime and its ability to capture the attention of viewers of all ages.
R-15 presents a unique story, following the journey of a young genius, Taketo Akutagawa who is an erotica writer.
This anime show of erotica writing and gorgeous girls is a major reason why R-15 has become so popular, as it adds a layer of depth and intrigue to the ecchi genre.
Hybrid x Heart Magias Academy
The Hybrid x Heart Magias Academy is one of the best ecchi anime on Crunchyroll because it follows the story of protagonist Hida Kizuna, who is gifted with the ability to equip a Hybrid Heart Gear, a special weapon that requires great strength to wield.
He enrolls in a special defense academy filled with other girls who have large chests, and his life is about to become very interesting as he strives to change the world and become one of the top magicians in his country.
Surrounded by a harem of beautiful girls, he is determined to prove that he can stand in the way of his destiny and not become the Demon King.
He was initially known as a pervert and he will overcome this too as well.
The show is filled with humorous moments and lighthearted ecchi hijinks, making it an enjoyable watch for fans of the genre.
Highschool of the Dead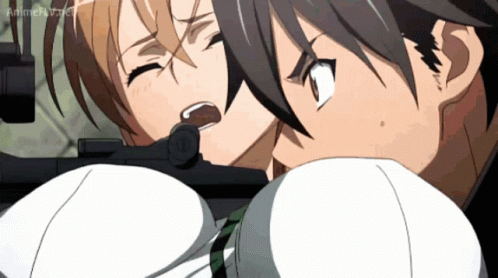 Highschool of the Dead is a notable ecchi anime on Crunchyroll due to its intense action, horror and supernatural elements, as well as its high amount of fan service and ecchi scenes.
The combination of horror and ecchi can never get better than this.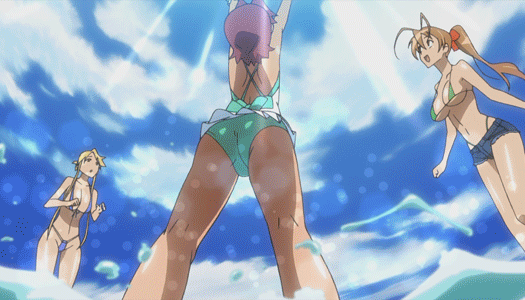 The series follows Takashi Kimuro and a group of high school students as they battle their way through a zombie-infested Japan in order to reunite with their families.
Along the way, the group grows closer to one another and must learn to control their hormones in order to survive.
This thrilling combination of intense action, horror, and fan service makes Highschool of the Dead a must-watch ecchi anime.
I hope they make another season for this anime.
So, I Can't Play H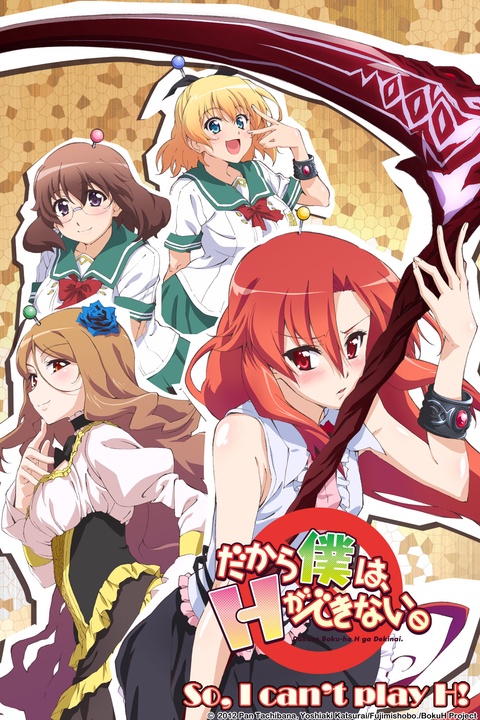 Dakara Boku wa, H ga Dekinai follows the story of high school student Ryousuke Kaga who is a known pervert.
And suddenly he meets a beautiful soul reaper Lisara.
She decides to use his sexual desires as an energy source.
This leads him to meet many other people and beautiful girls.
The characters are lovable and believable, and the fan base has grown to love their interactions and how they grow as individuals.
To Love Ru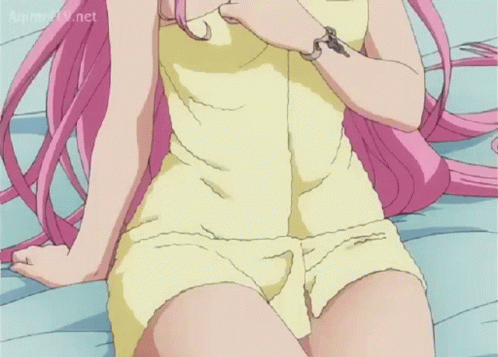 To Love-Ru is a notable ecchi anime on Crunchyroll because it strikes a balance between fan service, different genres, and heartwarming moments.
16-year-old Rito suddenly meets an alien princess who has just run away from her home.
She crash-landed on bathing Rito, completely naked.
Princess Lala is running from a political marriage and would love to marry our hero.
But our hero liked his classmate Haruna Sairenji.
More the anime progresses, Rito meets more women who all somehow love him.
A life of a dream someone would think!
Charger Girl Ju-den Chan
Charger Girl Ju-den Chan is a basic ecchi anime on Crunchyroll due to its unique premise of centering around two characters, Plug Cryostat and Jūden-chan, who help people with mental issues by using electricity.
They are supposed to help depressed and unlucky people.
You will love how this simple story turns out and how the ecchi scenes progress.
The anime art style might feel a bit old but the fun is there.
But be sure that you fulfill the age rating of this anime, this surely targets males over the 17-18+ age group.
Heaven's Lost Property
Heaven's Lost Property is an ecchi anime due to its focus on fanservice and its lighthearted comedy style.
The main protagonist, Tomoki Sakurai, is the recipient of a mysterious girl, Ikaros, who falls from the sky and begins to call him 'master'.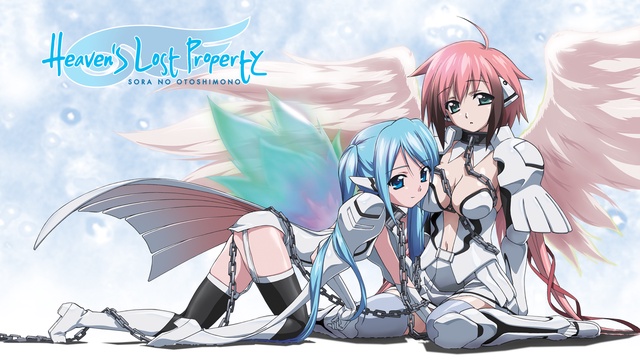 A fallen busty anime waifu calling master does seem interesting :p
Despite the outlandish premise, the anime has a lot of comedic elements, including scenes of fanservice and playful banter.
Additionally, the protagonists go on wild adventures and have humorous interactions with one another. This makes Heaven's Lost Property an ideal watch for those who enjoy a blend of comedy and ecchi.
Food Wars
Food Wars is an anime series that follows Souma Yukihira, a sous chef and his classmates at Tootsuki Culinary Academy, as they battle in food-based competitions to become the school's top chef.
It has become a popular show among Crunchyroll audiences because of its intense plot, its exciting and nail-biting shokugeki competitions, and its relatable characters.
The show has an interesting plot that follows the journey of Souma and his classmates as they compete and battle in the shokugeki, or the food wars.
Each character has a unique story and is trying to reach the same goal – to become the top chef.
This makes the show exciting and keeps audiences hooked as they watch their favorite characters progress and be challenged.
Every dish is made with precision and skill, and the show does a great job of highlighting the beauty and craft of cooking.
Every bite is almost orgasmic for the characters, and this helps to add an extra element of excitement and suspense to the show.
Can you really watch ecchi on Crunchyroll?
Well, Crunchyroll does have ecchi animes on it but not all of them are available in all the regions.
Also, there is no category named ecchi in Crunchyroll – all you need to do is search ecchi and check the list of animes to find your lovely waifu. (1)